NHS App Update
From Monday the 17th May the NHS App will show your Covid vaccination status once both vaccinations have been administered.
You can download the NHS App from your App Store and get set up without any input needed from the surgery
For more information go to www.nhs.uk/nhsapp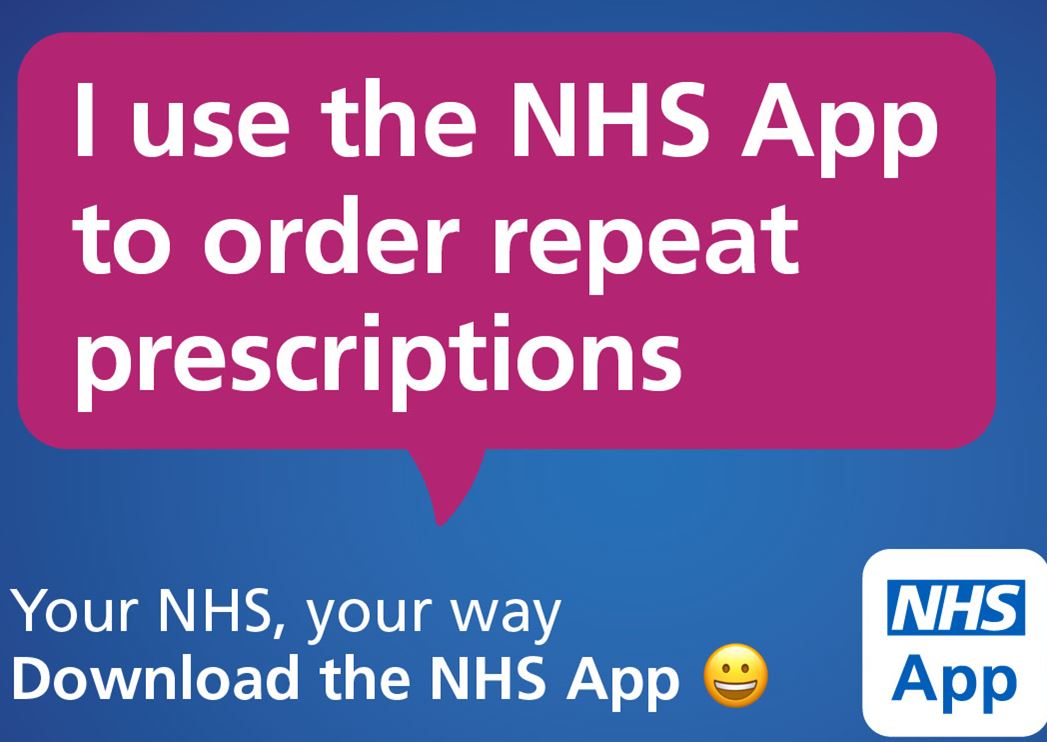 Try the NHS App
If you're a patient at our practice you can now use the new NHS App, a simple and secure way to access a range of NHS services on your smartphone or tablet.
You can use the NHS App to get health advice, book appointments, order repeat prescriptions, view your GP health record and more.
If you already use Patient Access you can continue to use it. You can use the NHS App as well.
For more information go to www.nhs.uk/nhsapp'
Not Registered for Online Services?
Repeat Prescriptions
If you are taking regular medication, you will be issued with a computer slip listing the drugs you are taking. When you need more medication tick the items you need and either:
Hand the slip into reception
Order online via the link at the top of this page
Please allow 4 working days for your repeat prescription to be processed, excluding weekends and bank holidays. You may be asked to make an appointment if the doctor feels that you need an up to date review. The surgery does not accept repeat prescription requests over the telephone.
Please only ask for the drugs you need, cross off any you do not require each time you make a request.
Over The Counter Medicines
Prescribing of over the counter medicines is changing
NHS England have published guidance to GPs advising them not to routinely prescribe over the counter medicines for certain conditions
NHS England have advised GPs not to give a prescriptions for the treatment of 35 common conditions
Your GP, nurse or pharmacist will not generally give you a prescription for over the counter medicines for a range of minor health concerns.
Instead, over the counter medicines are available to buy in a pharmacy or supermarket in your local community
The team of health professionals at your local pharmacy can offer help and clinical advice to manage minor health concerns and if your symptoms suggest it is more serious they will ensure you get the care you need all without the need for an appointment just pop in and ask
Please see the leaflet below for more information on the changes and a list of the minor illnesses that can be seen by your local pharmacist.
Prescription Fees
Help with NHS costs
In England, around 90% of prescription items are dispensed free. This includes exemptions from charging for those on low incomes, such as:
those on specific benefits or through the NHS Low Income Scheme
those who are age exempt
those with certain medical conditions
More information is available at NHS Choices
NHS Charges
These charges apply in England only. In Northern Ireland, Scotland and Wales prescriptions are free of charge.
Prescription (per item): £9.35
12-month prepayment certificate (PPC): £108.10
3-month PPC: £30.25
If you will have to pay for four or more prescription items in three months or more than 14 items in 12 months, you may find it cheaper to buy a PPC.
Telephone advice and order line 0845 850 0030
General Public - Buy or Renew a PPC On-line
There is further information about prescription exemptions and fees on the NHS website.